Met
Metalls (known more commonly by the nickname Met, and Helmet being their name in Mega Man for Game Gear) are one of the most common types of enemies represented in Mega Man Maker. Most forms of Met rely on staying under their helmets, protected from all non-piercing weapons, while occasionally making themselves vulnerable to attack. As a trade-off, Metalls often suffer from low damage output and a lack of health. As of now, 5 variants of Met are included in Mega Man Maker to use.
Variants
Met
The standard Met is the first form of Met seen in Mega Man, appearing in Guts Man's stage in Mega Man 1. It was originally created as an industrial robot for nondescript purposes.
Behavior
Acting as a template for most future Met variants, it is completely stationary, and stays protected until the player draws near, at which point it opens up and shoots a three-way spreadshot. In contrast to most enemies, its projectile does more damage than any contact with its body.
Neo Met
Neo Met
Artwork of a Neo Met from Mega Man 2
Information
Category:
Enemies
Game of origin:
Mega Man 2
HP:
1
Damage:
4 (contact)
2 (projectile)
The Neo Met is an upgraded version of the standard Met, now featuring feet and the ability to walk. They originally appeared in Crash Man's stage and the third Wily Stage of Mega Man 2.
Behavior
Like standard Mets, Neo Mets will stay stationary and protected until the player draws near. However, the Neo Met now fires larger bullets, deals significantly higher contact damage, and runs several tiles forwards after shooting, before hiding under its helmet again.
Train Met
Train Met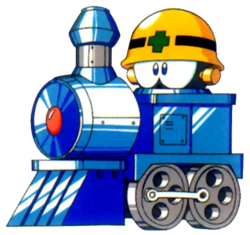 Artwork of a Train Met from Mega Man 5
Information
Category:
Enemies
Game of origin:
Mega Man 5
HP:
1
Damage:
4 (contact)
2 (projectile)
The Train Met (known as "Metall K1000") is a Met that rides a small locomotive while approaching the player. It originates from Charge Man's stage, but also appears in the second Dark Man level in Mega Man 5.
Behavior
Unlike other Mets, Train Mets not locked in place while protected, able to move forwards at a steady pace, turning around upon hitting walls. When the player draws near, it becomes vulnerable, toots a horn, shoots a three-way spreadshot, and begins moving at a much faster pace. If left alone for long enough after revealing itself, it will self-destruct.
Metall Cannon
Metall Cannon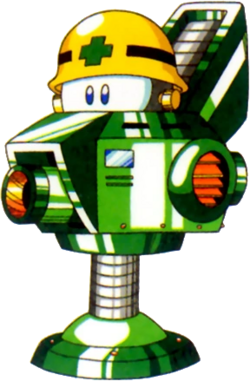 Artwork of a Metall Cannon from Mega Man 5
Information
Category:
Enemies
Game of origin:
Mega Man 5
HP:
4
Damage:
4 (contact/projectile)
The Met Cannon originally appeared in Napalm Man's stage, making further appearances in the second and third Dark Man stages, as well as the first stage of Wily's castle in Mega Man 5.
Behavior
As is standard, the Metall Cannon remains stationary and protected until the player draws near. However, when the player draws near, instead of firing three shots, it instead fires one bullet, which can absorb 1 health's worth of damage and deals more damage than most Met projectiles. In addition, unlike other Mets, it is able to survive significant damage, having a total of 4 health.
Fire Met
Fire Met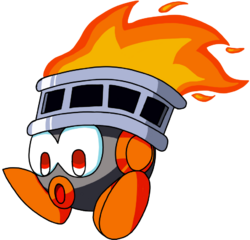 A screenshot of a Fire Met in-game.
The Fire Met, also known as Fire Mettall, is a variant of the Met that is based on fire. This enemy first appeared in Mega Man 8.
Behavior
This Met does not hide under a resistant helmet, but walks freely. On its top, it has a metallic structure that has a fire flame. This Met has the particular tendency to jump off from platforms when reaching the edge of a terrain, but will not jump to reach surfaces higher than them. As a fire-based enemy, it can trigger the explosion of TNT and ignite Oil. If stood on Oil, it will stand over the oil and walk normally over it. As on itself, it inflicts damage through contact with its structure, but not with its flame.
Some can appear a Fire Met Spawner, a metallic structure that generates these enemies and drops them from its gate. A Fire Met Spawner does not cause damage directly, is indestructible, acts like solid terrain, and can be stopped by electricity.
Numetall
Numetall
In-game sprite
Numetall is a slug-like variant of the Met that can move through terrain and shoot sludges instead of pellets. They are similar in appearance to the stationary Mets from Mega Man 1 and Mega Man 9. They appeared prominently in Pump Man's stage in Mega Man 10.
Behavior
When it is not shielded, the Numetall crawls for a while before stopping.
If the player is four horizontal tiles close to it, the Numetall hides in its shield. In this status, it is mostly invulnerable, although it shakes when attacked with most projectiles. Shooting constantly at it can prevent it from moving and attacking. If the player is still too close to them, they shoot three sludges. Unlike the pellets, the sludges do not damage the player character and instead make them temporarily slippery as if they were walking through ice. It follows the slippery properties in Mega Man 10 rather than the default one. The sludges can be destroyed by attacking them. When the sludges collide with the player character, they get stuck at them
Numetall's sludge can make the Chemical Solution more acidic. The sludges shot will be absorbed by the solution unless they are at maximum acidity. Sludges stuck at the player character do not increase the acidity of the solution when the player character traverses it.
Neo Heli Metall
Neo Heli Metall
In game sprite of Neo Heli Metall from Mega Man 10

Neo Heli Metall is a flying variation of the Met from Mega Man 10and an enemy introduced in 1.7.0.
It flies in a pattern and shoots three bullets like standard Mets. It can fly up and down or left and right. It is mostly invulnerable when it is covered in its helmet, but it is exposed when shooting.
The Neo Heli Metall was revealed at the end of the enemy contest that was held on April 20, 2020, and it was the second most voted enemy in the poll, with the first place winner being Returning Machine Gun Joe
Trivia