Water Level Changer
Jump to navigation
Jump to search

Before you read!
This article contains content in an upcoming update. The contents of this article may change as the update approaches and more information is revealed. Do not add information unless it has been publicly revealed in the announcement channels or by a reliable source (i.e. the developers).
Refer to the guidelines about upcoming content when contributing to this page.
Water Level Changer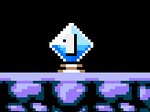 The Water Changer crystal showing the current water level.
The Water Level Changer is a level object originating from Mega Man Maker that will be featured in version 1.8.0.
The changer consists of a tetraedical switch with four possible settings, each setting representing the water's height. Once the switch is hit, the water will rise or lower, depending on what level the switch is set to.
The switch can be hit by the player or by a Fuse Laser.
The switch is shown to have the option to increment/decrement the water height as well as set it to a certain value.