Mega Man Maker
Mega Man Maker
Current version of the Mega Man Maker logo.
Mega Man Maker (previously known as Mega Maker) is a fangame created by WreckingPrograms that lets users create and share their own Mega Man Levels.
History
WreckingPrograms had previously worked on the Mega Engine, an open-source GameMaker engine that allows people to create Mega Man fan games and experiments. That previous experience and his passion for programming and fangames led him to create a game where non-programmers could create Mega Man levels.[1]
It released in July 15th, 2017 for Microsoft Windows, but users have found other ways to play Mega Man Maker, like on MacOS and Linux. Despite being a small project, this fangame picked up speed fairly quickly, as popular YouTubers like GTLive, and Blue Television Games played this game on their channels, and it had wide media coverage.
The first update to add features after 1.0 was 1.0.9, a minor update focused on celebrating Cirno Day, which is based on celebrating character Cirno from Touhou.
Time later, the first major update ever, 1.1.0, was released adding new content to Mega Man Maker. From that update on, the name would have the name Mega Man Maker since there was a website with the name "Mega Maker" and the developer team received a notice to rename the game.
However, after some months, 1.2.0 was released, adding new content for Mega Man 2 and Mega Man 3. Updates have still been continued with 1.3.0, adding new Mega Man 4 and Mega Man 5 assets, 1.4.0 adding more assets from Mega Man 6 as well as assets from Mega Man 7, and 1.5.0 adding assets from Mega Man 8 and Mega Man 9. In 1.5.0, The game was modified to allow the creation of multiple bosses, either simultaneously or in diverse parts of the stage, with the addition to edit bosses to give an item or change the weapon access or character instead of triggering the victory.
For further information on Mega Man Maker's development, see Version History
Gameplay
When the opening screen appears and the screen says "Press start", a click or a button will show the options in the screen. "Play" will allow players to play levels, be their own levels, example levels or online levels. "Build" allows players to access to the Level Builder, to create and edit stages. "Extras" allow editing the profile to play online, have access to the tutorial, and watching the credits. "Options" allow to change the controls, the screen resolution, and minor elements of the visual part.
Developers
Current team members
Former members
Gallery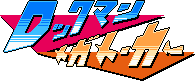 Trivia
The game itself acts like a remake of the Mega Man: Powered Up editor and/or the cancelled Mega Man Universe editor, but it has more content than the others, and is fully 8-bit.
References