Mega Man V
Jump to navigation
Jump to search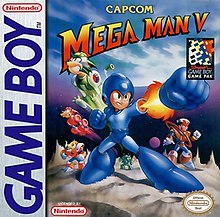 Mega Man V (released in Japan as "Rockman World 5") is the fifth and final Mega Man installment on the Game Boy. It was released in Japan on July 22, 1994 and in North America in September of that year.
Unlike every other Mega Man GB/World game, Mega Man V features entirely original content, including nine new robot masters (known as Stardroids in this game) and a new fortress to traverse. It is also notable for being one of the few Classic Mega Man games where Wily is not the final boss.
In Mega Man Maker
As 1.8.0 featured Game Boy content prominently, and as Mega Man V features the most original content of the Game Boy games, plenty of content from this game is featured in Mega Man Maker.
Bosses
Weapons
Enemies
Level Objects
Tilesets
Mercury Tile
Mercury Tile 2
Mercury Tile 3
Venus Tile
Venus Tile 2
Venus Tile 3
Venus Tile 4
Neptune Tile
Neptune Tile (Alt)
Neptune Tile 2
Neptune Tile 2 (Alt)
Neptune Tile 3
Neptune Tile 3 (Alt)
Mars Tile
Mars Tile 2
Mars Tile 3
Mars Tile 4
Jupiter Tile
Jupiter Tile (Alt)
Jupiter Tile 2
Jupiter Tile 3
Jupiter Tile 4
Jupiter Tile 4 (Alt)
Saturn Tile
Saturn Tile 2
Saturn Tile 3
Saturn Tile 4
Uranus Tile
Uranus Tile 2
Uranus Tile 3
Uranus Tile 3 (Alt)
Uranus Tile 4
Pluto Tile
Pluto Tile 2
Pluto Tile 3
Pluto Tile 4
Terra Tile
Dark Moon Tile
Dark Moon Tile Alt 1
Dark Moon Tile Alt 2
Dark Moon Tile Alt 3
Dark Moon Tile Alt 3
Dark Moon Tile Alt 4
Dark Moon Tile Alt 5
Wily V Tile
Wily V Tile 2
Wily V Tile 3
Wily V Tile 4
Wily V Tile 5
Wily V Tile 6
Ending V Tile
Spikes
Jupiter Spike GB
Mars Spike GB
Mercury Spike GB
Neptune Spike GB
Neptune Spike GB (Alt)
Pluto Spike GB
Saturn Spike GB
Uranus Spike GB
Venus Spike GB
Wily Spike GB V
Ladders
Mercury Ladder GB
Venus Ladder GB
Neptune Ladder GB
Neptune Ladder GB (Alt)
Mars Ladder GB
Jupiter Ladder GB
Saturn Ladder GB
Uranus Ladder GB
Pluto Ladder GB
Wily Ladder GB V
Water
Neptune Water GB
Neptune Water GB (Alt)
Music
Terra
Mercury
Venus
Neptune
Mars
Jupiter
Saturn
Uranus
Pluto
Wily Stage 1 (GB 5)
Wily Stage 2 (GB 5)
Robot Master GB 5
Sunstar
Backgrounds
Intro V BG
Mercury BG
Mercury BG 2
Venus BG
Venus BG 2
Neptune BG
Neptune BG 2
Mars BG
Mars BG 2
Jupiter BG
Jupiter BG 2
Saturn BG
Saturn BG 2
Uranus BG
Uranus BG 2
Uranus BG 3
Pluto BG
Pluto BG 2
Darkmoon BG
Darkmoon BG 2
Wily V BG
Wily V BG 2
Wily V BG 2 (Alt)
Wily V BG 3
Wily V BG 4
Ending V BG
Credits V BG
Plates