Water Fall Spawner
Jump to navigation
Jump to search

Water Fall Spawner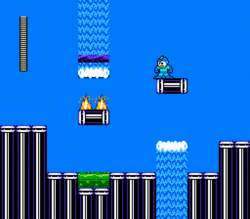 Information
Game information
Description:
Whether up or doWn, it drags you doWn regardless of present floors.
Category:
Level Objects
Series information
Game of origin:
Mega Man V
Development
Programmer(s):
?
Spriter(s):
?
Sound effect creator(s):
?

Water Fall Spawner is a Level Object added to Mega Man Maker in version 1.8.0 and hails from the Gameboy game Mega Man V.
Water Fall Spawner when placed in the Editor has multiple customization options; direction (up or down), various color settings, velocity, timing and whether the water fall is intermittently spawning or constantly present. After the initial burst of an intermittently spawning water fall, a warning of it's location is given either by a small "drip" directly below where the water fall will spawn again (ceilings), or "tiny water spouts" directly above it's spawn location (floors).
When the water fall is presently on screen collision for tiles are disabled in it's path allowing the player to move through tiles that normally are solid. If the player leaves a screen by the water fall into an area where there is no screen available then the player will instantly be eliminated the same as if they had fell into a pit. Jumping into the water falls will hinder jump height, while alternatively jumping into an upwards traveling water fall(?) can give the player extra jump height allowing for using it to reach higher places a normal jump would not.
Interactions
The water falls created by Water Fall Spawner can dilute Mega Man 11's Chemical Solution Object making it safe for the player to enter, extinguish ignited Oil or temporarily disable Napalm Fire.
Gallery
‎