Gravity Hold
Jump to navigation
Jump to search
Gravity Hold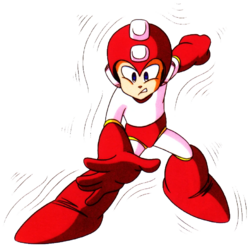 Official artwork of Gravity Hold from Mega Man 5
Information
Game information
Description:
Damage all enemies on screen and flip their gravity when defeating them.
Damage:
4
Added in version:
1.0.0
Series information
Game of origin:
Mega Man 5
Development
Programmer(s):
WreckingPrograms
Gravity Hold is Gravity Man's signature weapon from Mega Man 5. It is featured in Mega Man Maker since its 1.0.0 version.
When used, the player character will set off a flash that damages all destructible enemies that are onscreen. Any enemies destroyed by the use of Gravity Hold will be flipped upside down and flung upward off screen rather than just exploding like normal. Even projectiles can be sent off by this weapon. Due to its unique way of defeating enemies, those defeated with this weapon will not leave any pickups. Bosses, however, will be damaged as with another weapon depending of their weakness settings.
When used against bosses not immune to the Gravity Hold, they will be damaged even when using any shield or being in an otherwise invulnerable status. This does not includes Astro Man's quick teleport to use the Astro Crush. Boss projectiles are not affected by the weapon.
In Mega Man Maker, the weapon has been significantly buffed in damage since in the original the weapon dealt only 1 damage.
Interactions
The water falls created by the Water Fall Spawner Object, whether traveling up or down, can be reversed by Gravity Hold.
The Gravity Field Level Object can have it's gravity settings reversed back and forth using Gravity Hold.
Tutorial
Trivia
Despite Mega Man's sprite showing him as a shade of purple when Gravity Hold is equipped, his official art shows him in red instead.
The Gravity Hold does not affect Bokazurahs, although their projectiles can be sent upwards with this weapon. However, Rolling Drills can be sent away with this weapon.
Glitches
Gravity Hold has an exploit involving weapon containers. If the user activates Gravity Hold and then immediately switches to another weapon, any weapon containers on screen set to that other weapon will be destroyed instead of those that are set to Gravity Hold.
Gallery
Mega Man flipping some Lyrics with Gravity Hold
‎