Fire Storm
Jump to navigation
Jump to search

Fire Storm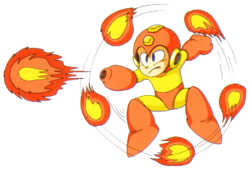 Artwork for the Fire Storm from Mega Man 1
Information
Game information
Description:
Fire fire, and give yourself a protective fire shield for one second.
Damage:
2(fireball), 2(fire shield)
Added in version:
1.0.0
Series information
Game of origin:
Mega Man 1
Other appearances:
Mega Man: Dr. Wily's Revenge
Development
Programmer(s):
WreckingPrograms
Fire Storm is Fire Man's signature weapon, originating from Mega Man 1 and reappearing in Mega Man: Dr. Wily's Revenge, Mega Man: The Wily Wars and Mega Man Powered Up. It is featured in Mega Man Maker as of version 1.0.0.
Using it sends a slow, enemy-piercing fireball straight forward while simultaneously surrounding the user with an orbiting fire shield for 1 second. The shield can hit a target up to three times, but it does not nullify projectiles. Additionally, the weapon cannot be refired until the fireball goes offscreen. Being a fire-based weapon, it can ignite Oil, TNT Blocks, and Hot Plates, as well as melt Ice Barriers.
Tutorial
Trivia
Fire Storm can be considered the first shield weapon in the series.
If fired at extremely close range, it will deal extra damage as the shield and projectile hit at the same time. This even works to do double damage on bosses.
Gallery
‎
‎
‎
‎