Atomic Fire
Jump to navigation
Jump to search

Atomic Fire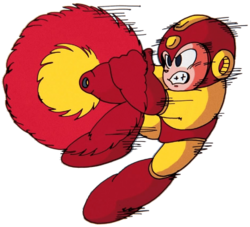 Artwork for the Atomic Fire in Mega Man 2
Information
Game information
Description:
Charge up a fireball and release it. The charge can damage foes too.
Damage:
2(uncharged), 4(half-charged), 8(fully-charged)
Added in version:
1.1.0
Series information
Game of origin:
Mega Man 2
Other appearances:
Mega Man: Dr. Wily's Revenge
Development
Programmer(s):
WreckingPrograms

TheSkipper1995 (concept)
Atomic Fire is Heat Man's signature weapon, originating from Mega Man 2 and reappearing in Mega Man: Dr. Wily's Revenge and Mega Man: The Wily Wars. It is featured in Mega Man Maker as of version 1.1.0.
It allows the user to shoot a fireball whose power and size changes depending on how long it was charged for beforehand. Additionally, the fireball is held out in front of the user while it's charging, and can damage enemies this way. It will only consume 1 unit of energy if attacking in this manner, and it will not despawn if it destroys something. Only when the attack key is released will the weapon consume energy, with the amount depending on the charge level. Uncharged shots cost 1 unit of energy, half-charged shots cost 3, and fully-charged shots cost 5. Sliding, dashing, and rolling will also release the shot. Being a fire-based weapon, it can ignite Oil, TNT Blocks, and Hot Plates, as well as melt Ice Walls. Against bosses, half-charged and fully charged Atomic Fire shots deal double and triple damage respectively, with the damage scaling based on weakness settings as well.
Tutorial
Trivia
Atomic Fire functions identically in this game to how it does in the fanmade Mega Man 2 Atari Demake. That game's creator, TheSkipper1995, is credited for this reason.
If the user charges a shot while on a ladder, then drops from the ladder, the held charge will be closer to them than usual.
‎
‎