Super Arm
Jump to navigation
Jump to search

Super Arm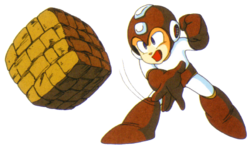 Artwork for the Super Arm from Mega Man 1
Information
Game information
Description:
Pick up and throw blocks at enemies, or make your own in free space.
Damage:
1(if dropped overhead), 2(shrapnel)
Added in version:
1.7.0
Series information
Game of origin:
Mega Man 1
Other appearances:
Mega Man: The Wily Wars
Development
Programmer(s):
Luigi
WreckingPrograms (assistance)
Spriter(s):
Luigi (blocked sign)
Super Arm is Guts Man's signature weapon, originating from Mega Man 1 and reappearing in Mega Man: The Wily Wars and Mega Man Powered Up. It is featured in Mega Man Maker as of version 1.7.0. The weapon allows the user to pick up Super Arm Blocks.
Pressing the attack key when in front of a Super Arm Block will allow the user to pick it up, and pressing it again will make them throw it in an arc. If the block can be picked, it will shine. A Super Arm Block being lifted loses tangibility while the player is carrying it, but it breaks upon contact with a target when released. Upon contact with an enemy or solid surface, it will break into four smaller pieces that can pass through terrain and enemies. Ladders cannot be climbed while holding a block. Attempting to climb ladders, changing weapons or sliding or dashing movements will cause it to be thrown immediately. Every member of the Spine family can be defeated instantly with Super Arm.
In addition to its usage to carry existing blocks, it was given the function to let the user spawn Super Arm Blocks in the area in front of them, a feature based off of Guts Man's own version of the weapon in Mega Man Powered Up. Up to five blocks can be created, and they will not despawn if the weapon is switched. Blocks cannot be created if there is something obstructing the 2x2 area in front of the player. If dropped on top of an enemy, it will break instantly, dealing less damage in the process. It also breaks if it falls upon bosses, but it does not deal them any damage.
Both creating blocks with Super Arm and throwing them costs 2 units of energy to perform.
A video tutorial for Super Arm is available here
Super Arm Block

Super Arm Block

Information
Game information
Description:
A big block to lift with Super Arm. Has many variants, but no gravity.
Added in version:
1.7.0
Series information
Game of origin:
Mega Man 1
Other appearances:
Mega Man: The Wily Wars
Development
Programmer(s):
Luigi
Spriter(s):
BigMaster (additional particles and skins)
Super Arm Block is a level object that can be grabbed and thrown with Super Arm. It is fully solid in its initial state and is 2x2 tiles long.
It comes with multiple skins from various stages. Most come from its original appearance in Mega Man 1, while there are two skins taken from Mega Man: The Wily Wars and the general one from Mega Man Powered Up.
Unlike the level object, the version created by the player is different in that it acts like a moving platform similar to a Push Block. The player can be instantly killed if a Super Arm Block falls on top of them, and bosses can be killed if they are crushed between a moving block and a wall despite being immune to them if it falls on them. This version uses the skin from Mega Man Powered Up.

Gallery
‎
‎