Helipon
Jump to navigation
Jump to search
Helipon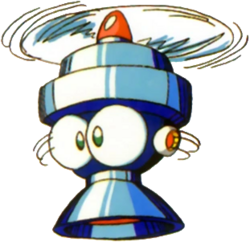 Official artwork of a Helipon from Mega Man 4
Information
Game information
Description:
Flies and homes in on you until it senses ground, then drops and acts as a turret.
HP:
1
Damage:
4 (contact)
2 (projectile)
Added in version:
1.7.0
Series information
Game of origin:
Mega Man 4
Other appearances:
Mega Man III
Development
Programmer(s):
Meka
The Helipon is an enemy from Mega Man 4 that appears mainly in Drill Man's stage. It was introduced in Mega Man Maker in version 1.7.0.
When spawned, it will home in on the player until it senses ground. If it is nearby any ground, it will lose its ability to fly and will simply be stationary. It will shoot a horizontally travelling bullet at the player every few seconds while in this state.
If spawned on ground, it will usually just fly two tiles from its original spawn point. However, if it is spawned mid-air, it will have a chance to home in on the player before landing.
When homing in, it will not have any collision with solid terrain so that it can reach the player.
‎