Cocco
Jump to navigation
Jump to search
Cocco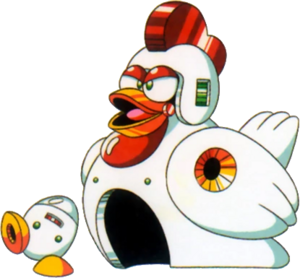 Artwork of a Cocco from Mega Man 5
Information
Game information
Description:
Spawns as many as three small chickens at once. Can you do the fabled chicken jump?
HP:
1 (corocoro)
5 (cocco)
Damage:
3 (corocoro)
7 (cocco)
Added in version:
1.7.0
Series information
Game of origin:
Mega Man 5
Other appearances:
Mega Man IV
Development
Programmer(s):
Meka
Cocco is a hen-like robot enemy added in version 1.7.0 of Mega Man Maker. It originates from Mega Man 5 and reappears in Mega Man IV.
Cocco is a stationary enemy that spawns egg robots named Corocoros from a hole in its chest. Cocco's weak point is its head, as the rest of its body cannot normally be attacked. Cocco can turn around to adjust to the player's position if the latter attempts to go behind it.
Corocoros will walk forward and jump if they collide with a wall. If they fail to get above the wall, they instead go to the opposite direction. Corocoros can be easily defeated with most attacks.
‎