Pharaoh Man
Jump to navigation
Jump to search
Pharaoh Man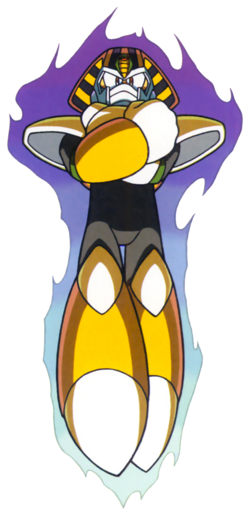 Artwork of Pharaoh Man from Rockman Complete Works
Information
Game information
Description:
Jumps and fires magical pellets before landing to charge a wave attack.
Category:
Boss
HP:
28
Damage:
4 (contact)

2 (Pharaoh Shot) 6 (Pharaoh Wave)

Added in version:
1.0.0
Series information
Game of origin:
Mega Man 4
Other appearances:
Mega Man IV
Development
Programmer(s):
WreckingPrograms
DCN-028/DWN-028 Pharaoh Man is one of the 8 Robot Masters from Mega Man 4 that has been featured in Mega Man Maker since version 1.0.0. Pharaoh Man uses his signature weapon, the Pharaoh Shot to attack.
Pharaoh Man was created by Doctor Cossack to explore pyramids and other ancient places, but during Mega Man 4 events he was upgraded into a battle robot to fight Mega Man. He later reappeared during Mega Man IV to once again challenge Mega Man.
Behavior
One of Pharaoh Man's attacks includes doing a few short hops towards the player's direction while firing his Pharaoh Shots in the player's direction. His Pharaoh Wave attack has a huge hit box, but must be charged first, and always travels horizontally in the direction Pharaoh Man is facing. Pharaoh Man will also occasionally attack by doing one jump and trying to land on top of the player.
Evading Pharaoh Man's jumping attack is the most difficult part of fighting him, staying mobile to avoid a direct hit from a Pharaoh Shot isn't easy, as then also evading Pharaoh Man himself require immense focus and careful jumps and slides. His crippling weakness however, is when he uses his Pharaoh Wave. Jumping over the wave is simple enough, especially with the long and obvious charge up Pharaoh Man does. This long charge up also leaves him extremely vulnerable, making it easy to blast him with charge shots and most other special weapons. Conveniently, he also tends to favor the Pharaoh Wave attack which leaves him more easily evaded and damaged. However, he can easily catch the player off guard by performing his jumping Pharaoh Shot attack.
Pharaoh Man can occasionally begin by using the Pharaoh Wave, making him predictable and easier to counterattack.

Trivia
Pharaoh Man is included as a built-in boss in the Mega Engine. As such, he was the first boss ever added to Mega Man Maker.
In the end credits of Mega Man 4, Pharaoh Man is mistakenly labeled DWN-026, which is supposed to be Toad Man's number.
Pharaoh Man is one of few Robot Masters that have two special weapons that the player can get upon defeating him. In Mega Man 4 and Mega Man IV, Mega Man would obtain the Pharaoh Shot. Meanwhile in Mega Man: The Power Fighters series his defeat will give the player his Pharaoh Wave instead which functions identical to how he uses it.
Gallery
‎
‎