Quick Man
Jump to navigation
Jump to search
Quick Man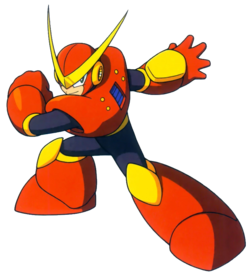 Artwork of Quick Man from Rockman Complete Works
Information
Game information
Description:
Jumps three times, lobs three Quick Boomerangs, then runs forward and repeats.
Category:
Boss
HP:
28
Damage:
4 (contact)

5 (Projectile)

Added in version:
1.7.0
Series information
Game of origin:
Mega Man 2
Other appearances:
Mega Man: Dr. Wily's Revenge
Development
Programmer(s):
Luigi
DWN-012 Quick Man is one of the 8 Robot Masters from Mega Man 2 that is featured in Mega Man Maker since the 1.7.0 update. He is very agile and confuses the player with his quick attacks and movement, and shoots his signature weapon, Quick Boomerang at player.
Built by Dr. Wily to outmatch Mega Man in speed, but due to oversight he is only robot that can be damaged to Time Stopper. He challenged Mega Man in his den full of Quick Lasers and tried to outmatch him, but failed miserably. His data combat is later reused by Doc Robot in Mega Man 3. He later comes back with four other MM2 robots in Mega Man: Dr. Wily's Revenge, trying to stop Mega Man from reaching Enker.
Behavior
Quick Man has a pattern that involves three jumps of varying heights. On the second jump, he will throw three Quick Boomerangs, which will home in on the player a few seconds after being shot. They will despawn upon going off-screen. After all three jumps, Quick Man will run towards the location of the player, and will repeat the pattern again.
In 1.7.3, a small delay was added for when he runs into a wall to decrease his difficulty.
Similarly to Mega Man 2, if he is hit with a weapon set as his immunity, he will stop in place for a few seconds before resuming his usual pattern. He is affected by gravity in this state, so if he is hit while jumping, he will drop down.
Trivia
Prior to Quick Man's implementation, Luigi posted a demonstration of his proof of concept of Quick Man and Super Arm in the Mega Man Maker Discord server. They were done in a private developer build of 1.5.4 that Luigi has used for programming experiments.
Gallery