Mole
Mole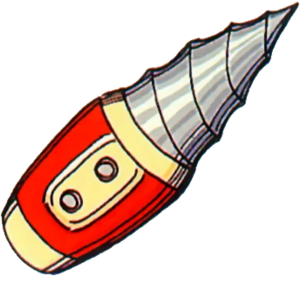 Official artwork of a Mole from Mega Man 2
The Mole is a drill-like enemy from Mega Man 2. It was introduced in Mega Man Maker in version 1.7.0. It appears in Metal Man's stage and also in the final stages of Dr. Wily's castle in Mega Man 2.
When spawned, it will go in the direction it was set facing. If it makes contact with terrain, it will burrow itself into the terrain and exit from the other side. There are also Mole spawners that will spawn Moles in a select area. The original one introduced in 1.7.0 spawned them randomly, but due to community feedback it was repurposed as a random spawner with green-blue colored Moles while a Mole spawner closer to the one in Mega Man 2 that retained the original orange-red color was introduced in version 1.7.4.
It can be set to move either upwards or downwards in the Level Builder.
Molmole
Molmole
A group of Molmoles in Mega Man Maker
Information
In-Game Information
Category:
Enemies
HP:
5
Damage:
4 (contact)
Added in version:
1.7.0
Misc. Information
Programmer(s):
Luigi
Series Information
Game of origin:
Mega Man 10
The Molmole is a variant of the Mole that is from Mega Man 10. It appears in the final stages of the game's Wily Castle and the first special stage. It behaves nearly identically to the normal Mole except for the fact that it creates a small visual spark effect before entering and after exiting any solid terrain. Similarly to its Mole counterpart, it has a spawner that spawns Molmoles in a fixed pattern that is colored blue and one that spawns them randomly that is colored yellow.
Gallery