Rush Coil
Jump to navigation
Jump to search

Rush Coil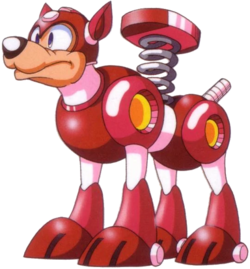 Artwork for the Rush Coil from Mega Man 7
Information
Game information
Description:
Use Rush as your personal spring and get to higher ground.
Damage:
1(buster shot)
Added in version:
1.0.0
Series information
Game of origin:
Mega Man 3
Other appearances:
Mega Man 4
Development
Programmer(s):
WreckingPrograms
Rush Coil is a Special Weapon originating from Mega Man 3. It is featured in Mega Man Maker as of version 1.0.0. This weapon is exclusive to Mega Man.
When used, Rush is summoned to the area in front of the player. While he's present, the user can fire basic buster shots. Jumping on him will cause him to launch a spring from his back that boosts the user up seven tiles by default. If bounced on underwater, they can go as high as seventeen tiles instead. If Rush is left idle for three seconds, he will teleport away automatically. Rush cannot be successfully summoned within two tiles of a wall, or if the user if at least four tiles above the area where he would land.
Proto Coil

Proto Coil


Sprite of Proto Coil from Mega Man 9 and Mega Man 10.
Information
Game information
Description:
Like the Rush Coil, but you don't need to take it for a walk.
Damage:
1(buster shot)
Added in version:
1.3.0
Series information
Game of origin:
Mega Man 9
Other appearances:
Mega Man 10
Development
Programmer(s):
WreckingPrograms
Proto Coil is Proto Man's version of the Rush Coil, and as such can only be used by him. It is featured in Mega Man Maker as of version 1.3.0.
When attempting to spawn it too close to a wall, it will despawn rather than teleport away. Besides this, it is functionally identical to Rush Coil.
Even if Proto Man has the Proto Strike function enabled, he uses uncharged Proto Buster projectiles.
‎