Batton
Jump to navigation
Jump to search
Batton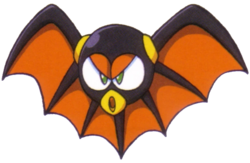 Artwork from Rockman Complete Works of a Batton from Mega Man 2
Batton (also known as Bubble Bat) is a small bat-like surveillance robot that originates from Mega Man 2 appearing primarily in Wood Man's stage. Although Battons where originally designed to monitor forests and caves, they became so popular with people that they were mass produced and sold as pets. Battons in the possession of Dr. Wily were instead re-purposed for combat. There are various models, but the only one to be implemented as of now is the Batton from Mega Man 2.
When Batton spawns, it will be in a "passive state", hanging upside-down, and covering its body with its wings to protect itself from damage.
When the player gets 7.5 tiles or closer to the Batton in any direction, Batton will enter an "aggressive state", uncover its body and slowly fly towards the player, with the ability to pass through solid walls. It is vulnerable to attack during its "aggressive state".
If a Batton in its "aggressive state" collides with the player, it will quickly fly straight upwards, despawning if it flies upwards off-screen, or if a ceiling is above it, Batton will latch onto it and return to its "passive state".
Gallery
Trivia
Despite Batton's sprite implying that it is hanging from a physical block, the enemy is not affected by gravity in Mega Man Maker when placed in the Level Builder, making it capable of hanging upside-down in mid-air. In some official appearances like Wood Man stage in Mega Man 2, some Battons were idle mid-air in order to pull off the illusion of them being on the trees in the background.
Batton have appeared in several games in the Mega Man series, including their original appearance in Mega Man 2. These include
On top of these additional appearances, several variations of the Batton enemy exist in other entries of the Mega Man series. These include

Battonton from Mega Man 4 which is for the most part functionally identical to the original but with a circular mouth
Batton M48 which appears alongside Shade Man and in his stage from Mega Man 7
Batton M64 and group variants known as Batton Mommy & Petit Batton from Mega Man 8 and Mega Man & Bass which attacks with a drill-like dive
Succubatton which is a green colored fanged variation from Sword Man's Stage that can drain health if it successfully hits the player
Batton M-501 which appears as an Easter egg in the first Mega Man X and its remakes alongside several of its Mega Man X series successors the Batton Bone where it functions identically to how it did in most previous games
Glitches
If a Batton collides with a player while flying through a wall, it will attempt to latch onto a "ceiling" inside the wall. This causes it to either stick to the edge of a tile within the wall where the inner portion is considered empty space, or clip through the ceiling and off of the screen causing it to despawn.
‎
‎