Pipi
Jump to navigation
Jump to search
Pipi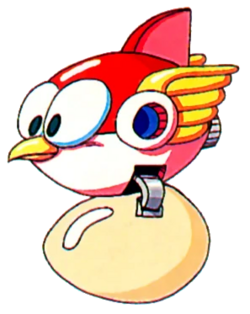 Artwork of a Pipi from Mega Man 2
Information
Game information
Description:
Evil bird that drops an egg with its children on you. Shoot the egg or you'll be swarmed! (Pipi)


Continuously summons bad parents from the direction you're looking. (Pipi spawner)

HP:
1 (egg)
1 (Copipi)
1 (Pipi)
Damage:
2 (Copipi)
4 (egg)
4 (Pipi)
Added in version:
1.7.0
Series information
Game of origin:
Mega Man 2
Other appearances:
Mega Man: Dr. Wily's Revenge
Mega Man: The Wily Wars
Mega Man II
Development
Programmer(s):
Luigi
The Pipi is a flying bird robot enemy that originates from Mega Man 2 and makes an appearance in Mega Man: Dr. Wily's Revenge, Mega Man II, and Mega Man: The Wily Wars. The Pipi was the first asset to be shown off for version 1.7.0 of Mega Man Maker.
A Pipi attacks by dropping an egg if it is 3 or less tiles next to the player character's vertical axis. Upon contact with a solid floor, the egg cracks in two and a flock of seven small Pipis called "Copipis" are released. The Copipis fly in a straight path to the player character's current position. The Copipis are not released if the egg falls down a pit or if it is destroyed before it collides with a solid floor. If a Pipi is shot before it drops the egg, the egg will drop and will release any Copipis inside if in contact with a solid floor.
Pipis come in three different colors—light-orange and white, dark-orange and light-orange, and dark-pink and white. They can be set to either move left or right in the Level Builder. There is also a Pipi spawner that will constantly spawn a Pipi in the direction the player is facing if the player is in the spawner's area.
Trivia
The sneak peek in the announcement of Pipi's addition to Mega Man Maker version 1.7.0 uses a ladder maze section from Crash Man's original level in Mega Man 2.
The Pipi is the first enemy that was announced on a holiday: in this case, Easter.
‎
‎