Ratton
Jump to navigation
Jump to search
Ratton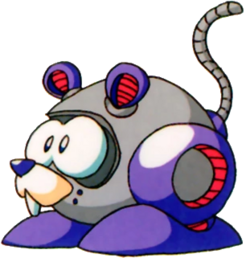 Official artwork of a Ratton from Mega Man 4
Information
Game information
Description:
Not to be confused with Batton, Battan or rattan, this mouse only jumps forward.
HP:
2
Damage:
4 (contact)
Added in version:
1.7.0
Series information
Game of origin:
Mega Man 4
Other appearances:
Mega Man IV
Development
Programmer(s):
Meka
Ratton are jumping rat robots originally from various stages in Mega Man 4 that are featured in Mega Man Maker.
Rattons will hop in the left or right direction. Once they reach a wall, they will turn around and proceed to jump in the opposite direction. They will not turn to face the player if they are behind them.
They will randomly choose between high jumps, and low jumps.
‎