Rush Jet
Jump to navigation
Jump to search
Rush Jet is a Special Weapon originating from Mega Man 3. It is featured in Mega Man Maker as of version 1.0.0. This weapon is exclusive to Mega Man.
When used, Rush is summoned to the area in front of where the player pressed the attack key. While he's present, the user can fire basic buster shots. Jumping on him will allow the user to ride on top of him as he flies forward, and the user will be anchored to him as he does. Pressing the up or down movement keys will allow for his altitude to be adjusted mid-flight, and holding the movement key opposite to the direction he's moving will slow him down. If Rush Jet touches a wall, or is left idle for three seconds, he will teleport away automatically. Rush cannot be successfully summoned within two tiles of a wall.
Proto Jet

Proto Jet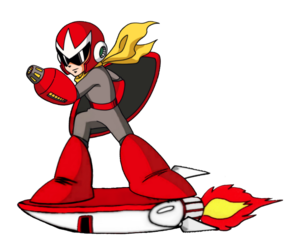 Artwork of Proto Jet by Justazag.
Information
Game information
Description:
Like the Rush Jet, but doesn't leave its fur all around the house.
Damage:
1(buster shot)
Added in version:
1.3.0
Series information
Game of origin:
Mega Man 9
Other appearances:
Mega Man 10
Development
Programmer(s):
WreckingPrograms
Proto Jet is Proto Man's version of the Rush Coil, and as such can only be used by him. It is featured in Mega Man Maker as of version 1.3.0.
When attempting to spawn it too close to a wall, it will despawn rather than teleport away. Besides this, it is functionally identical to Rush Jet.
‎