Pharaoh Shot
Jump to navigation
Jump to search

Pharaoh Shot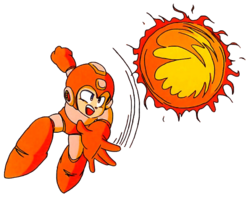 Artwork for the Pharaoh Shot in Mega Man 4
Information
Game information
Description:
Blast solar energy in 6 directions, charge up to pack a bigger punch.
Damage:
1(uncharged), 4(charged)
Added in version:
1.0.0
Series information
Game of origin:
Mega Man 4
Other appearances:
Mega Man IV
Development
Programmer(s):
WreckingPrograms
Pharaoh Shot is Pharaoh Man's signature weapon, originating from Mega Man 4 and reappearing in Mega Man IV. It is featured in Mega Man Maker as of version 1.0.0.
It allows the user to throw balls of solar energy forward or diagonally up/down if the corresponding keys were held beforehand. Holding the attack key will allow it to be charged up, and the ball forms above the user's head, being able to deal damage in this state without consuming energy. Furthermore, the ball can pass through reflective objects such as unmarked Weapon Blocks while still held. At full charge, Pharaoh Shot will continue on through destroyed enemies and objects. Uncharged shots cost 1 unit of energy, while charged shots cost 2. Up to 3 uncharged shots can be onscreen at a time, and charged shots don't count towards this limit.
This weapon is capable of being charged even before the player spawns after the Ready screen.
Tutorial
Trivia
A bug in Mega Man 4 allowed a fully-charged shot to still be thrown if the ball above the player's head was consumed by an enemy. This was fixed in Mega Man Maker.
‎
‎