Ladder Press
Jump to navigation
Jump to search
Ladder Press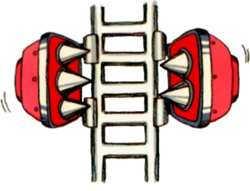 Official artwork of a Ladder Press from Mega Man 4
Information
Game information
Description:
Moves up and down ladders, occasionally chomping to knock you off them.
Damage:
4
Added in version:
1.7.0
Series information
Game of origin:
Mega Man 4
Other appearances:
Mega Man III
Development
Programmer(s):
WreckingPrograms
Ladder Press is an enemy in the Mega Man series, originating from the first and second Cossack stages from Mega Man 4 and reappearing in Snake Man's stage in Mega Man III. It was added to Mega Man Maker in 1.7.0.
When its chomps are in between a ladder, a Ladder Press moves up and down on it, opening and closing on intervals in an attempt to damage the player. It will move 5 tiles up or down twice, 3.5 tiles up or down twice, then repeat the pattern. A Ladder Press will move up or down towards the player after closing depending on the player's correlation to the Ladder Press on the horizontal x-axis. If a Ladder Press is obstructed by a solid object on either side of a ladder, it will not move past the object obstructing it. It will also not move past hard transitions between vertical screens. Without a ladder, a Ladder Press remains stationary and is affected by gravity. It acts like a solid 3x1 object that can still deal damage with a 1x1 gap in the middle when not on a ladder. A Ladder Press can be moved by other level objects such as Conveyor Belts and moving platforms. It will perform its regular ladder behavior when it is placed in between any part of a ladder. Most weapon shots fired at the Ladder Press will be bounced off. However, a Ladder Press can be frozen by ice weapons such as the Ice Slasher and Freeze Cracker.
In the Level Builder, the Ladder Press has a space in the middle to allow it to be placed on ladders in the middle. It can be set to be either red, orange or green.
‎