Molier
Jump to navigation
Jump to search

Molier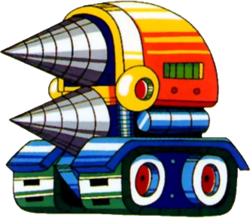 Artwork of Molier
Information
Game information
Description:
Moves straight forward, flies backwards when punched and destroys weaker blocks.
Category:
Enemies
HP:
5
Damage:
5
Weakness(es):
Power Adaptor
Series information
Game of origin:
Mega Man 6
Development
Programmer(s):
?

Molier is a tank enemy equipped with drills first appearing in Mega Man 6 and was added to Mega Man Maker in version 1.7.0. Molier's direction can be set facing left or right in the Editor and if encountered ingame will charge in an attempt to ram the player with it's drills. If punched with a fully charged Power Adaptor Molier will be knocked backwards.
Interactions
Molier's drills can destroy Cracked Blocks just like in Mega Man 6. Unique to Mega Man Maker Molier can also destroy other Level Objects such as...
...Noteworthy is that Molier can destroy all the aforementioned blocks and keep going though when destroying the purple Ice Block variant Molier also will destroy itself on impact.
Gallery