Fuse Crosser
Jump to navigation
Jump to search
Fuse Crosser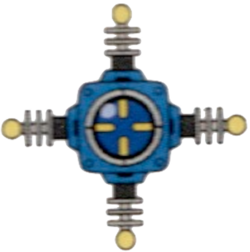 Artwork for the Fuse Crosser from Mega Man 11
Information
Game information
Description:
Spreads incoming laser electricity to the four cardinal directions.
Alternate name(s):
Elec Crosser
Damage:
3 (contact)
6 (laser)
Added in version:
1.7.0
Series information
Game of origin:
Mega Man 11
Development
Programmer(s):
Meka
Spriter(s):
E-Clare
BushBacon
BigMaster
The Fuse Crosser (also known as the Elec Crosser) is a level object originating from Fuse Man's stage in Mega Man 11. It is featured in Mega Man Maker as of version 1.7.0.
It consists of a 2x2 generator with four fuses, pointing in the four cardinal directions. If the generator comes into contact with an external electricity source, such as Elec Tellies or electric weapons, the fuses will light up and produce small lasers, dealing contact damage to the player character.
Fuse Xtender
Fuse Crosser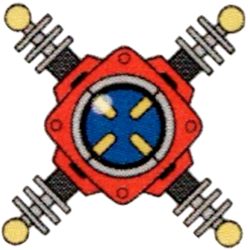 Artwork for the Fuse Xtender from Mega Man 11
Information
Game information
Description:
Spreads incoming laser electricity to the four diagonal directions.
Damage:
3 (contact)
6 (laser)
Added in version:
1.7.0
Series information
Game of origin:
Mega Man 11
Development
Programmer(s):
Meka
Spriter(s):
E-Clare
BushBacon
BigMaster
The Fuse Xtender (also known as the Elec Xtender) is the same as the Fuse Crosser function-wise, but it produces lasers in the four intercardinal direction and is red instead of blue.
A Fuse Crosser or Fuse Xtender can only be destroyed with rubber balls, like Bounce Ball or Mega Ball. Strike Man's Rebound Striker can also destroy them.