Quick Boomerang
Jump to navigation
Jump to search

Quick Boomerang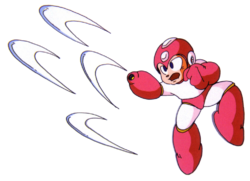 Artwork for the Quick Boomerang in Mega Man 2
Quick Boomerang is Quick Man's signature weapon, originating from Mega Man 2 and reappearing in Mega Man: Dr. Wily's Revenge and Mega Man: The Wily Wars. It is featured in Mega Man Maker as of version 1.0.0.
It shoots small boomerangs that follow a short loop 5 tiles outward before returning to the user. Up to 4 boomerangs can be onscreen at once, and holding the attack key enables rapid-firing up to 3 boomerangs. It will not despawn if it destroys an enemy, but it will upon breaking a destructible object. Quick Boomerang can damage all members of the Spine family, and is also capable of defeating the otherwise indestructible Big Fish, a trait it shares with Crash Bomber.
Tutorial
Trivia
Quick Boomerang being able to defeat Big Fish was originally a bug in Mega Man 2, as it was capable of damaging every enemy regardless of immunities. This was fixed in Mega Man: The Wily Wars.
It has the highest energy capacity of all weapons, being able to be used 224 times with a full gauge. It shares this trait with Screw Crusher.
In Mega Man 2, deflected Quick Boomerangs fall downward off the screen. This was changed in Mega Man Maker to fly off towards the top corner of the screen like most weapons.
‎
‎