Tackle Fire
Jump to navigation
Jump to search
Tackle Fire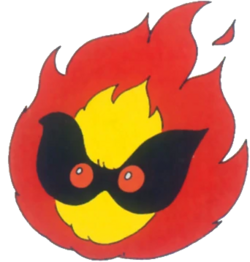 Official Artwork of a Tackle Fire from Mega Man 1.

Tackle Fires are an enemy first introduced to Mega Man Maker in version 1.1.0. They premiered in the original Mega Man game on the NES.
Tackle Fires are added to a screen in the Editor by inserting a Tackle Fire spawner at the bottom of the screen. Once ingame Tackle Fires attack the player by rising from the bottom of a given screen in a straight line from where their spawner is located, flying out of sight, only to return onscreen gradually falling in a downward spreading pattern attempting to hit the player.
Being completely covered with fire, Tackle Fires have the ability to ignite the Mega Man 6 Oil Object and the Mega Man 8 TNT Blocks, as well as provide areas of light in rooms darkened by the Mega Man & Bass Darkness Object.
Tackle Fires are also used as projectiles by the Mega Man 2 enemy Hothead where their behavior is different. As projectiles they travel from Hothead in an arcing trajectory toward the player's location.
Gallery
Trivia
Tackle Fires reappeared in Mega Man Powered Up with somewhat different features, though in Mega Man Maker Tackle Fire's features are modeled off the original Mega Man game and (as projectiles) Mega Man 2 on the NES.
‎
‎
‎