Dark Man 3
Jump to navigation
Jump to search
Dark Man 3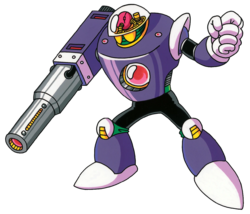 Information
Game information
Description:
Creeps forward, will freeze you in place when close enough and shoot you.
Category:
Bosses
Damage:
5 (contact)

4 (projectile)

Added in version:
1.8.0
Series information
Game of origin:
Mega Man 5
Development
Programmer(s):
Luigi
Spriter(s):
E-Clare

Dark Man 3 is one of the fortress bosses in Mega Man 5, originating from the third stage of Proto Man's Castle. It is featured in Mega Man Maker in version 1.8.0.
Behavior
Dark Man 3 will slowly approach the player, leaping into the air after a bit and firing five or six shots. If the player is close, he will instead fire three rings that freeze the player in place, making them vulnerable to his shots.
Trivia
Dark Man 3's intro animation is custom made for Mega Man Maker due to lacking one in Mega Man 5.
There was a glitch in Mega Man 5 where getting frozen by Dark Man 3 while using Charge Kick would render the player invincible until unfrozen and Charge Kick ended. This is fixed in Mega Man Maker.